| | |
| --- | --- |
| Bert Jackson | |
Bert was in the 3rd Battalion, The Royal Tank Regiment as a Gunner/Driver on a Cruiser tank. He reckons that the tanks they had in Greece still had their desert tracks on and so were useless in the rocky terrain. His unit retreated south through Greece, being bombed all the way, to the port of Navplion. The Royal Navy ships which were picking up troops here had to be away from the port by 3 a.m. in order to be well out of German bomber range by day break. Consequently time was limited and Bert, along with 200 other men in the Tank Regiment were left behind.
Once captured, the Allied servicemen were marched by road to Thessalonika in northern Greece. Bert convinced the German guards that he had a foot injury and did the journey in the back of a truck! From there the prisoners were loaded into cattle wagons and sent to Marburg in northern Yugoslavia. Bert was kept here for a while, building a road over the mountains, and then was sent on to Stalag 18A in Wolfsberg.
Bert's Work Camp History
July '41 - Feb '42: 10049/GW, Gmünd Roadwork, quarry, forestry
Feb '42 - June '42: 148/GW, Pinkafeld Blanket factory
June '42 (10 days): Welgersdorf Farmwork
June '42 - Oct '42: 522/L, Oberwart Farmwork
Oct '42 (5 days): Markt Neuhodis Refused to work
Oct '42 - May '44: 99/L Bernstein Farmwork
May '44 (5 days): Erdwegen Refused to work
May '44 - Oct '44: 162/L Olbendorf
Oct '44 - May '45: 1030/GW Obdach Railway work
While in Bernstein, Bert was responsible for five cows. This job involved taking them out into the fields and then falling asleep under a tree until it was time to bring them back. Other than Bernstein, Bert worked in various parts of Austria. He made a point of being a trouble-maker and was shifted about a lot. At one camp he only lasted 24 hours before being moved out with a gun at his back! His other acts of sabotage included pouring water into electric motors, breaking tools and letting cows roam into crops. In October 1944 he attacked a guard and threatened him. It was while he was awaiting a Court Martial for this offence in Stalag 18A that he witnessed the American bombing raid.
Bert finished the war in another Work Party at Obdach, west of Graz; repairing railway lines bombed by the Allies. Even here, he managed to make a nuisance of himself. One section of track was laid so badly that the first train across it fell over.
Bert went back to Bernstein in the late 1960's.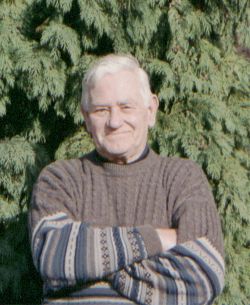 Bert in 1997
Bert passed away in December, 2002.


Return to top of page
Return to last page