| | |
| --- | --- |
| Ron Cridge | |
RONALD MAYFIELD CRIDGE- Darfield, New Zealand
At 19 years of age he signed up for the Second World War in the Army, the 26th Battalion. He was offered the choice of training to be an officer, but as this required his waiting a further 6 months before departure he declined, as always keen to be involved .Because of his Father's having a Movie Theatre business, Ronald had a good knowledge of film making etc and was enlisted into the section in the army where they took film for records of manoeuvres and action. He rapidly gained his stripes becoming a Sergeant. Although on one occasion he lost those; on camp in Egypt he and his friends had got very drunk and he was crawling around the tents, after curfew, trying to find his tent, he found what he thought was his own, crawled in and went to sleep, picked the wrong one, it was the General's, and he did not appreciate his bed mate.
After enlisting, Ronald was sent to Burnham Camp for initial training before being sent with his friend Brownie Dann to Wellington, with the 1st Section of the 4th Reinforcements on the evening of the 7th November on the "Rangitira". Embarking the following morning on the Polish ship the "Batory", sailing on the eve of the 8th Nov into a howling gale, they were accompanied by the "Achilles" & the " Maunganui" to Sydney. The troops had 2 ˝ days leave, then sailed in convoy with three larger ships full of Australian troops escorted by three Australian Cruisers to Fremantle. The Batory was a liner of 14287 tons and captained by Deyczakowski, but owned by the British and employed as a troop carrier during the war, also used to uplift the families from Singapore.
The Convoy spent 5 days in Fremantle while the cruisers searched for a German Raider in the Indian Ocean. The convoy then departed for Ceylon (Sri Lanka) where they had a days leave in Colombo. While on board Ronald was excused many duties and lectures as he worked six evenings a week as film projectionist in the ship's cinema.
Dear Mum & Dad, Arrived Wellington, have had a good trip, now embarking on a Polish Ship of about 15 thousand tons bound for God Knows Where , the C.O. says its to be fairly long trip and that's all we can say. Cherio, I'll write a note from the next port of call, the ship's name is "Batory", there are two of us in an ultra modern cabi . No Leave in Wellington.
30/11/1940
We have left our second port of call, some 3 days it's getting warmer, it will be some time before our next stop. We get up each morning at 5am and drill till 10.30 then start again at 3.15pm to avoid the heat of the midda,y a good idea as drilling is bad enough at anytime. We have had a change and swapped our cabins for hammocks on the bottom deck Hope you received my cable to say we had not been sunk,( all rumours!). As a matter of fact we have not seen any enemy activities whatsoever. I met an Australian off one of the troop ships at our last port he gave me a marvellous time; he really was one of the finest chaps I have met.
The Convoy reached Port Tewfik on the 16th Dec. where the New Zealanders disembarked and travelled by train to the Maadi Military Camp a few miles out of Cairo. Christmas day was spent at Maadi. After further weeks of training and two weeks guarding Italian Prisoners of War, the reinforcements were finally moved to the Helwan Military Camp where they were drafted into different battalions and other support units. Ronald joined the 26th Battalion and Brownie Dann the 20th, separated after a long time sharing the same platoon, barracks and ships.
Egypt:
We get a fair amount of leave which is spent mostly visiting various places, I went to the Pyramids last time, they were marvellous affairs full of old tombs and tunnels. Another interesting place was the "Dead City", where Egyptians have been buried for centuries, the designs are glorious and huge some as big as several of our houses put together, the zoo is also great.
My mailing is: Southern Training Company, Middle East Forces,Overseas.
21/Jan/1941
Received your first letter today, although I see you've sent lots, probably missing somewhere. We have been here about 5 weeks now I have just finished a training course in Cinematography Operations, so that I will have a special job screening instructional films for the boys, entertainment and taking film. You must have had a quiet Christmas, ours was quite a good dinner although no "duff" and we had the day off !! I have been made Battalion Orderly Corporal. The local Film Co manager, an Egyptian has offered me a service, that I could send you some souvenirs, things are very cheap here. Chaps I know and am with are: Max Anderson, Forbes O'Rourke
Cairo to Alexandria
In March, the Infantry Battalions moved to Amiriya, about 12 miles from Alexandria and camped. On the 6th March the NZ Division sailed from Alexandria, reaching Greece the following day. Some Convoys took several days due to a storm, therefore arriving in Greece about the 11th or 12th. All Infantry Brigades camped on the slopes of Mt Hymettus on the outskirts of Athens before moving up to the front. They were there for about a week. He was captured at Kalamata 1941 during a rear guard action by the Germans and kept as he put it "as a guest of the Third Reich" with some 1000 New Zealanders and 1100 Australians and several thousand British, when holding the beach for the major portion of their regiment to escape on the ships. It must have been a dreadful feeling. He luckily had bought from a local a large bag of figs, which kept many of the soldiers from starvation; they were marched for days on end across Greece, mountains as well, to the rail tracks.
He and another soldier carried between them a bucket of water which supplied many with much needed water on the march.
They were force marched to Corinth arriving on the 2nd May 1941 when he again met up with his friend Brownie Dann. From Corinth they were moved to Salonika arriving there on the 9th June. Two trainloads carrying most of the New Zealanders left Salonika on the 11th & 12th June. Ronald was on the train to Wolfsberg in Austria. They were herded into cattle trucks on the railways and for several days shunted to Austria, they were neither fed, watered nor allowed out for ablutions etc.
29th April, 1941.
The ships had gone we were left and took to the hills, where we were captured, carrying our friends we were marched for days to a rail junction, without food or water, we were hearded onto cattle trucks at Corinth and shunted on our way, for many days more, still without food or water. I with two friends managed to carry some water wit hus to share around. We travelled by train to a few miles north of Athens where we had to disembark and walk again as the rail tunnels had been blown up by our engineers on the retreat. From there we were marched for many miles over hills, rather like the Christchurch Port Hills, on very primitive tracks, to a town called Lamia. We slept on the track where we stopped, exhausted. The nights were cold. From Lamia we travelled to Salonika, we stayed there for a few days before being shunted into horse wagons and went to either Austria or Czechoslovakia. I was sent to Austria. Red Cross managed to get food parcels to us at some of the waiting junctions. – arrived at Stalag XVIII. Near the city of Graz.
The main camp for all the Allied Prisoners Of War was established at Wolfsberg, Stammlager XVIIIA. Attached to Wolfsberg were dozens of different types of working camps all with their own quarters and guards. Ronald spent during the 4 years some 350 days in Solitary Confinement with no food and only water, generally for endeavouring to escape. He also had to wear a French Uniform as his had been removed from him which meant short trousers and as he had no leggings and only had the "clogs" (boots with a fabric top and a wooden sole, very hard to walk in and NOT waterproof) suffered from the cold until at last the Red Cross supplied him with a new uniform and boots arrived from his parents.
His Mother & Father were only advised that he was missing in action, it was 6 months before the Germans finally were coerced to advise the names of the prisoners they held. He was quick to learn the German Language, without allowing them to know that he understood and used it to endeavour to get better terms for the prisoners, he was voted as the representative.
He assisted to organise various entertainments to keep prisoners' minds busy, plays, singing shows boxing tournaments etc. He with others refused to work on farms for the Germans, many soldiers did, but Ronald could not bring himself to assist them, he often organised himself and others to have strikes of various kinds to thwart the Germans.
Letter to his parents – 29th May 1941
-we can only hope that Ron is a Prisoner of War and while that is not a happy experience, it at least gives us some assurance that some day he will have the hope of returning to his loved ones. Today we are facing the most powerful and most efficiently equipped war machine the world has ever known and we can only do our best such as the wonderful work our boys did in Greece and are doing in Crete until it starts to run down and when we see a slackening, then we can start to drive it back to where it came from.
At present our tactics are to do all we can to build up our resources until that time comes, and adopt such measures as will tend to hasten its exhaustion. It it very unfortunate that in the meantime we will have casualties, but we must make sure that in winning this War future generations will not have to bear the suffering that our folks bear today., For the present our thoughts are with you and your family and we hope just as earnestly that your son will some day be restored to you all.
Kindest Regards and Best hopes
from Gen. Warren.
22nd July 1941
My Dear Folks,
At last we have been given the opportunity to write something like a decent letter I do hope that you have received my numerous notes through the Red Cross. . Well we have been captured some 3 months now and have seen more in that time than I ever imagined possible. The scenery through the Balkan States is marvellous, but I will tell you more about that at a later date. You may write as often as you like to the given address. We are allowed to receive parcels from home amounting to 10lbs per month. The Red Cross officials were around today, they have promised us parcels in the near future, my health is keeping up well so you have no need to worry,
Your ever Loving Son
Ron.
He made several escape attempts, one I remember being told, trudging out through the sewers only to be caught at the end of the tunnel, another attempt he and his friend managed to get across the border and found a local bar where they celebrated with glee and staggered out hiding under a hedge, fell asleep to be woken some hours later by the guards, found!! They used their cigarettes and chocolates from Red Cross sometimes to bribe the guards (these were generally just German Soldiers, but when the SS turned up for inspections and to harass the prisoners, things were VERY different. They were constantly hungry and Red Cross parcels were often not distributed, on a march to another Camp, Father saw cucumbers growing on the side of the road, bent down to pick one up, to be bayoneted in the back for his efforts. All my life he could not bear cucumbers being on the table, let alone eat one and his back although scarred was lucky not to have had his spine damaged. The other attempt which must have been dreadful, he and a friend, escaped from the compound and waited near a train siding, clambered under the train and suspended themselves under the carriage/truck between the wheels, clinging on for a long time the train finally stopped at where they believed should have been Switzerland, to find it had shunted onto another line and had rerouted back into Austria. They were transferred to another Camp with tighter security.
21st Feb 1943
have changed my address to Stalag, quite a nice change to see all my Christchurch friends, spring is fast approaching and things in general are brightening up, except the mail which has slowed again, the last one I got was sent in Nov. I came back to the Stalag with more clothes than I ever carried in my life, a great asset here, great to meet up with the old friends, Cranny Hearn & others. I am looking forward to a change. There are about 1000 men here in Stalag with a big percentage of New Zealanders. Hoping to start operating a film & organising a concert soon which is more interesting than pick & shovel especially with the food shortage, we survive on the parcels. Attending lectures mostly on episodes of different chaps lives here. Most of my time here in Stalag is spent reading.
5th April
Mail is infrequent a shortage of sorters here in Stalag, weather is becoming warm yesterday we had an International Boxing & Wrestling match, the French man won after a hard fight, we get some news from the boys working outside when they return, we also have a very good chap as Padre here name of Ledgerwood. My Kit Bag with personal articles & souvenirs may be had on request from the Military Authorities. I hear the NZ Division is keeping up to its name, I wonder how many of my (26th) Battalion are left??
Please thank the NZ Patriots Soc I received 200 cigs today. We had another great sports meeting, I entered for everything consequently as stiff as blazes today. I hope we haven't to write too many more letters from here one day I shall write a book instead of these little one-eyed things! Cherrio, Best of Love
11th April
going broke on two up, yesterday was the Spring Racing Meeting , I was up 50 marks, my health is good and spirits excellent looking forward to an early armistice, We are 2000ft above sea level in Stalag so it takes a while for summer to arrive.
18th April
received 8 letters & snaps of the house & family, wonderful !! dated Sept-Jan. It's beautiful and Sunny now, sporting season , May day is going to be a grand show, processions etc.,
22nd June
Hi Folks In the money today, did allright at the "races" and Two Up just bought a lot of fresh vegetables. I think you all probably are given a wrong impression of our life here, it's certainly not all beer and skittles but survival , although no cause for alarm.
27th June
well the word is that we shouldn't be too optimistic about a peace this year
11th July
yesterday we had a Christchurch reunion a few personalities, Vic MacDonald, Maurice Collins, Lance Rankin, 26 in all a truly grand afternoon, news is good, but nothing can happen quickly enough for us.
14 July
A card from my friend John (Jack) Dillon from [Brisbane, Qnslnd. ] from Stalaag VIIA Austria with his photo.
7th Aug
Hi folks, another week rolled by with the summer drawing to a close & also this war we hope. I'm still in Stalag awaiting repairs to my hut been here 8 months, finding plenty to do. I can hear the strains of our latest Stalag "Hit" "Land of Begin Again".
16th Nov
winter is here, becoming intensely cold again , for the last 2 months I have been out in the forest gathering wood for the winter – Carl Carlisle has just produced his latest pantomime entitled "Lights Life" a great show he is an enormous asset to our Stalag.
22nd Nov. 1943
I have been moved out of Stalag to this terrible godforsaken hole Luzon , we in Germany are entitled the "Toothless Terrors", there are exactly 104 but 12 went through, they are doing time in the local "Boob", there have been more "Captains" here dishing out orders than I have ever seen before even in the front line. I am busy at present with the Man of Confidence job on my hands
8th Jan 1944
Xmas & New Year festivities are over, some quite pleasant memories to relate at a later date. We had a Christmas Pantomime entitled "Aladdin" a superb effort I shall have some photos to show you – every day there are new boys coming to join our "happy band" they do bring some very different stories. Thanks for sending me the cake
14th June
Well here we go again folks , busy as blazes, I'm 2nd in Comm. Confidence Man at a large Camp of 600 men so you can imagine how much there is to do with all their troubles with the authorities, works etc. but I do find it interesting, it passes the time quickly. Haven't had a cigs. Parcel for months. I with two other chaps run a race meeting in aid of the Red Cross which was a big success raised nearly 1000 marks.
28th May 1945 – Margate England N.Z.E.F.
Dear folks, Reception in this Country wonderful, received cable & letters, I don't expect to be back in NZ for some time about Xmas I guess. Everything is mighty expensive here, my friend Maurice Collins and I are arranging a flat in London's West End I shall look up Des Scott and see if he is interested. I landed in England with practically nothing, just ever so relieved. We had a wonderful trip over by "Lancaster" Bombers, boy what a kite. We were with the Yanks in Germany for 3 weeks they gave us a most marvellous time, they'll do me.
Today we are busy getting re equipped, we are almost finished. Just received a 'tenner" mighty queer to handle real money again. I shall write again shortly
At the end of the War they were taken to London and given their accumulated pay, a new uniform and set up in Hotels to gain some semblance of health before returning on the troop ships to New Zealand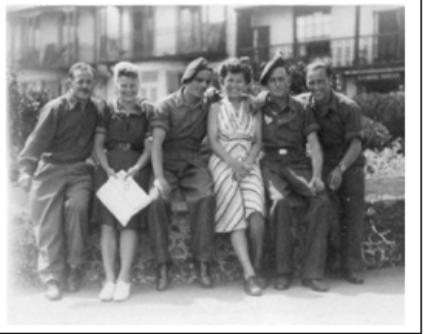 On leave in London, prior to embarking for New Zealand (Ron on left)
Return to top of page
Return to last page