| | |
| --- | --- |
| Work Camp 576 L | |
Location: Liebenau bei Graz
Type of work: Gardening
Man of Confidence: L/Cpl C.H. Bradley
Number of Men: 17
Known to be present
| | | | | | |
| --- | --- | --- | --- | --- | --- |
| Forename | Surname | Rank | Unit | POW | Comments |
| Frederick Joseph | Bamford | L/Cpl | RAC | 9508 | Bristol |
| Charles Henry | Bradley | L/Cpl | KRRC | 3866 | London; MOC |
| Edward Cavalier | Daws | Gnr | 1 A.Tk. Rgt. | 2099 | Victoria, Australia |
| Albert Norman | Deeley | Tpr | RAC | 5479 | Staffs |
| Percy Alexander | Dorothy | Cpl | RAVC | 387 | Liverpool; also 565/L, 10030/GW |
| Arthur Raymond | Evans | Pte | 2/2 Fld. Wkshops | 5326 | Australia; also 410/GW |
| Athol Anthony | Heath | Pte | 2/4 Inf. Bn. | 3959 | Sydney, Australia |
| Fredrick Gordon | Herzog | Pte | 2/4 Inf. Bn. | 3891 | NSW, Australia |
| Jack Edward | Hurton | Spr | RE | 6043 | Mansfield; also 76/HV |
| Gordon | MacCallum | Dvr | R Sigs | 4653 | Chester; also 410/GW |
| Charles James | O'Meara | Sgmn | 6 Div. Sigs | 7098 | Victoria, Australia |
| Sidney | Paine | Cpl | KRRC | 3865 | Middlesex |
| Tom B. | Roberts | Spr | RE | 6042 | Liverpool; also 76/HV |
| Charles Heathfield | Stewart | Gnr | 2/3 Tk. Ak. Rgt | 6405 | Qld, Australia |
| Cecil Trevor | Thorne | Pte | 1 A.Tk.Rgt. | 3854 | Australia |
| William (Big Bill) | Troup | Pte | 2/4 Inf. Bn. | 3859 | NSW, Australia |
| Graham Percy | Woodward | Pte | 2/4 Inf. Bn. | 3753 | NSW, Australia |
Charles Bradley &
Athol Heath
Sidney Paine, Anna Grasmugg, Charles Bradley
Roberts, Hurton,
Paine, Bradley
Photos supplied by Phil Evans and Chris Paine.
Date of visit: 11 September 1943
General Description
The prisoners of war live in a gardener's house.

Interior arrangement
Very big room with double-tier beds. Electric light and a little cooking stove. Half of the room is used as a day-room and is furnished with 2 tables and sufficient chairs.

Bathing and washing facilities
Hot bath available.

Toilet facilities
Adequate.

Food and Cooking
Food adequate.

Medical attention and sickness
A civilian doctor in a big work-camp for French civilians attends to the sick. Medical supply adequate. Dental treatment in either Liebenau or in Stalag.

Clothing
In order.

Laundry
Done by the gardener's wife.

Money and Pay
Correct.

Canteen
None at all.

Religious activity
No visit yet.

Recreation and exercise
No sports ground. Orders were given that walks must be organised every Sunday by the Lagerfuhrer.

Mail
Fairly regular.

Welfare work
In order.

Complaints
The men were ordered to dig their air-raid shelter on Sundays. This was stopped by the Accompanying Officer and this work will be done during the week. There is no Geneva Convention in this camp. Stalag will send one.

General impression
This camp where the men work in a big gardening enterprise is very good and the men enjoy perfect physical and moral health.
Phil Evans, Sidney Paine and Anna Grasmugg
Phil is the son of Arthur Evans, one-time POW in 576/L. Phil has spent a great deal of time and effort in tracing details of 576/L, its location and the POWs who worked there. With the help of a journalist, Andrea Rieger, from the Kleine Zeitung (a local paper in Carinthia), he has discovered that Sidney Paine married Anna Grasmugg, an Austrian girl who helped him survive at the very end of the war. Sidney and Anna moved to London after the war and Phil has met up with Anna (now 93) and her son Chris. From conversations with Anna and Chris, Phil has established the location of the POW building on 576/L (a disused pub). It is circled in the Google Earth picture below. Compare this with the recconnaisance photo above.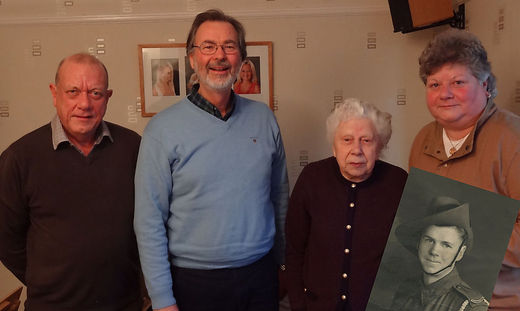 Phil (2nd left) with Anna & her children Chris and Rosalind
The photo is of Arthur Evans
Jack Hurton at Liebenau
In January 1943 they moved us all out, split us up (from 76/HV). All bosom pals were split and sent to different work camps. Tom and I were not split up for some reason; we didn't live in each other's laps perhaps. Chaps were sent all over, three of four of us were sent to Liebenau. I don't know whether they moved us because we were practically running the veterinary camp, or whether they thought it would be bombed. However, off we went. Tom and I and I think two others were sent to Liebenau. It was a bitterly cold day, snowing, but when we got there Sid was off sick, made us welcome, made us a cup of tea; nectar. That was our first meeting with Sid, Charles and the others we met at night when they left work. Tea was often in short supply, it was brewed, dried, boiled up next time, dried again and if we were short of cigarettes, it was smoked.
As soon as we had had a cup of tea we were taken to our place of work, Tom and I were split up. He went to a market garden, the same as me but different owners. I went to Herr Vesel in Rosengasse; they made my acquaintance and expected me to start work immediately. I politely told them to forget it; I would start work the next day. I don't think I ever got on with the boss after that, he was very old, late 70's and never worked. The Frau was a little better, the daughter, Albina, was like her Dad. We got on ok but she was a slave driver, but she soon found out how far she could go with me. The servant girl worked in the house for a short while and then out in the garden, Theresa, (Resi). I think she worked as hard as anyone did, but I got on quite well with her. The billet was part of a pub, the dance floor in peacetime. The pub was closed during the War. Our room was next to the cow stable and we were inundated with fleas. Every morning our shoulders and hips were covered in fleabites. -On a nice sunny Sunday we hung our blankets (2) on the fence, the fleas stood out in the sun, we squashed them between thumbnail and had one night of bliss.
The people we worked for had to collect us in the morning, 7am, and return us at night, 6pm or dusk in winter on weekdays. Sunday about 8am to 4pm, we only uncovered and covered the hot beds on Sundays. It was the one-day I had a decent dinner, roast chicken or rabbit with vegetables, the only time I saw meat. They got a little ration of meat, cheese, and butter for me, I never had it. I enquired and was told the old people wanted it to keep their strength up. The girls and me lived on boiled potatoes, spinach, tomatoes, lettuce, maize meal and a bit of bread. I don't like spinach anymore either. The old man about 80 years would often grumble at me not working hard enough, I would reply that I wasn't there to win the war for Germany, perhaps not quite as politely. He upset me one day, I do not remember how, but I went for him with a fork, it had been years since he moved as quick, his daughter screamed at me. I don't think he ever spoke to me again. Resi did my washing every week; I paid her with a bar of soap or chocolate now and again. We were not allowed to talk to civilians or them to us. Actually the owners were only supposed to talk to us about work. It didn't actually work. People along the road usually passed the time of day.
When the bombing started round there more people spoke to me, agreeing with it if it would shorten the War and not affect them. One widow who lived at the bottom of our garden, a proper hag, used to shout at me and call me `schweinhund', I went to tell her the Russians were coming and signalled a noose round my neck and up into a tree and pointed to her. Albina, the daughter, used to move me away from that part of the garden and tell the woman to keep her mouth shut. There was one lady who came from Graz on a Thursday and helped get produce ready for market, tying together, washing etc. She got killed in an air raid on Graz. Her husband called shortly afterwards, I disappeared, thought it would be better, but he came down the garden to me and reassured me it made no difference between us. He said it was war and I couldn't do anything about it. Our garden was hit quite a few times. I had built a bunker to go into during raids. Once we were all in or at the bunker and the old lady said the dinner was on the aga and it would burn. I ran to take it off, in the meantime planes were overhead dropping bombs. I was just going out the door and I heard a bomb falling. I lay flat on the floor and got tiles and wood all over me. I went outside and a bomb had fallen near the bunker. Resi was just getting up, she was coming to warn me, and she had been lightly buried by soil. I think she was too near to the bomb for it to hurt her. She was pleased I was ok and I was pleased she was so we had a cuddle. I wouldn't have cared about anyone else. That bomb did a lot of damage to the house and buildings, the horse's stable roof fell in and the horse, very temperamental at the best of times nearly went mad, in fact it was screaming. Every time it moved it trod on tiles, the noise made it worse. No one could get in to let it loose, so I climbed through the non-existent roof, dropped into the manger and released It ran into the yard which was also covered in tiles, they couldn't catch it. After a bit I managed to get hold of its halter rein and led it into the lane where it quietened down a bit, it's body looked as though it had been rubbed with soap suds.
We had quite a bit of work to do apart from the garden, our people got Tom to come for a few days to do a bit of brickwork and plastering. I think we had four or five bombs in our garden, holes had to be filled in. The gardener at the end of our road was always friendly, he came round and said 'Johann, there is a hole in our pigsty.' I went round; there was certainly a hole but no other damage. I looked in and could see the tail fins of a bomb. I told him he had an unexploded bomb and walked quickly away. I told him to go in the house to the other side and stop in. He rang the police and a PC came and shouted to me 'are you a POW?' I agreed. He said 'you think there is an unexploded bomb?' I said 'no, I am sure.' He cleared off; he hadn't been within a quarter of a mile of it. Later in the day, soldiers came with a gang of workers and dug it out. I believe they used Russian POW's or convicts from their own prisons. (Dig out ten bombs, if you are still alive you are free.)
During daylight raids the Americans bombed indiscriminately, one end of Graz to the other, during the night the RAF Pathfinder dropped a flare on what was to be bombed and most of the bombs were dropped in that area. The marshalling yard and railway were bombed one night. Next day there were engines and wagons up ended, on their sides, railway lines stuck up in the air. The chap who carted manure from the camp in Gosting (where I had worked) to the market gardens had a tractor and large trailer. We went to Gosting the next day, Albina and Resi cycled but I went on the trailer. The driver said when we passed the railway, 'Johann, do not laugh, you don't know who is watching.' On the way back we were in the middle of Graz when the Air Raid Warning went again. All traffic except Emergency Vehicles had to stop and everyone had to get to the shelter; we were near to the tunnels under the clock tower. I told him I wasn't going in there with hundreds of Austrians, so I climbed down off the load of manure and sat underneath it, he had to do the same because he didn't dare leave me. I also went with the same man for manure for the other gardener at the end of the lane. Once when we got back and unloaded they took me in and gave me bread and cheese and cider, on returning to our place the girls were hoeing potatoes. I lay down at the end of the row and fell asleep. Albina played hell, Resi laughed, I think if Albina had dared she would have kicked me awake.
For a short period we had a Ukrainian girl, only fifteen. She had hardly any clothes for cold weather. Wooden shoes and a piece of cloth for socks. I did persuade the girls to give her some proper clothes to wear, which they did with bad grace. They gave her work which I found heavy, she was quite uneducated and a peasant. I finally told her to tell the powers that be that the work was too heavy; glory be they agreed and took her away. Our people knew I had something to do with it, but I denied everything. However another girl came, absolutely different, we both knew a bit of German by this time. She could discuss Dickens, Sir Walter Scott books and Shakespeare plays. She was also a little devil. She was always looking for a bit of sabotage, putting her foot through the glass, walking through the seedlings, all sorts of things to annoy. She got on to me for not doing the same, I said if I did it as well we should both get locked up. She laughed like hell and asked if it would be in the same cell. They got rid of her so I was on my own again.
Meantime at the billet, some of the chaps had girl-friends. Verboten. Sid had Anna, Cecil Thorne had his boss, a widow. Dickie Baird had his boss's daughter, Jack Watts had a very smart piece, a solicitor. One or two of the lads went down the road to a French POW camp, there was a brothel there and the girls were inspected regularly. Of course Gordon MacCallum had to be different; he picked a middle-aged lady from Graz, who gave him gonorrhoea. Panic stations! We told him to go see the doctor; she lived in a big house near our billet. He took her some chocolate and asked her to keep it quiet. Low and behold she treated him and kept quiet. Each time he went he took her soap or chocolate or something out of our parcels. Of course all these meetings had to be at night, except Sid, Anna worked on the next garden. The billet had double doors, one opened for normal passing in and out; the other was fastened by finger bolts pushed up and down in the closing part of the doors. We hammered a spoon handle very thin which could be inserted between the door when we were locked in end pushed the bolts up and down. Both doors would then open together and out they went. When they came back before lights out, we opened the doors, let them in and fastened the bolts again. One day someone hadn't fastened them properly and the guard spotted it when he unlocked the doors; he also saw the scratch marks. The powers brought a big iron bar to go across both doors, fastened to the brickwork, hinge at one end, clasp and lock at the other. This rather curtailed the Romeo visits. Christmas came and Jack Watts wanted to go to his girlfriend's Christmas party, he also wanted to take Tom because he could play the piano. The two of them made up their beds and went out before we were locked in. On their return they were supposed to knock on the window. We were beginning to think they had been caught, but about 2am we heard a knock. We knocked the guard up and said a lot of us were sick with diarrhoea and would he let us out. He grumbled but got up and unlocked the bar and the door and about ten of our lads went to the toilet, but twelve came back in. Tom had had a smashing time playing the piano and drinking and eating.
In the meantime something had to be done to get the lotharios out and in. The windows were barred, two down and four across I think. We sawed through each one, fastened them with soap mixed with black shoe polish. All who wanted to go had to go at one time and return at the same time, and then the bars were secured again. This was always after lights out when we were in bed. At that time it was my turn to be MOC — man of confidence they called it, I was told to stay behind when the SS were coming to check up. We were not allowed unopened tins out of parcels, they all had to be opened before leaving the parcel room. Of course we got plenty out still closed but took them to work out of the way, but not Freddie Hertzog; he hid one tin in his mattress. Of course it was found, the SS took every mattress outside and emptied all the straw out and left it, they found no more tins. When the lads came in from work, they played hell with Freddie, I think he was the least liked anyway. But worse was to come. They turned the place inside out, photos, tins for shaving, water, everything was thrown out. Worse again, they went round trying the bars on the windows, and would you believe it, one set came out in their hands. One of the SS stood there with the bars in his hands in front of him. I could see the funny side and laughed. The Sergeant stood to attention, his hands stiffly at his side and shouted his head off at me. It was a typical German reaction, and of course everybody was frightened of them. I just stood there; he said `do you understand?' I said 'speak slowly and don't shout.' His face was blue, then red and then white. He fetched our guard in and set about him, he had to get some clean pants after they had gone. I said the bars must have been put in a long time ago, but they said the bars were put in when the billet was opened to keep us in. I said they had done that because we had never had an escape. The same day a welder came and welded them all together. The Germans had little sense of humour.
We had a stove in the billet and each gardener took it in turns to bring wood for us to burn, there was plenty of wood about, there was a big saw mill not far away. We ran out at one time and were without wood for a couple of days, except what we carried from work or nicked from fences. However the lads decided not to go to work until someone delivered some wood. I was still in charge. The gardeners all came to collect us in the morning, we were all ready for work but refused to go until some wood was delivered. The guard rang though to the barracks, a Corporal and Private came and took me away. Somebody delivered the wood but the lads would not go back to work until I returned. In the meantime I was put in a cell at the barracks. After a few hours I was taken in front of a Major who quietly read me the Riot Act — strikers were shot in Germany he said. I was marched back to the billet and to all the lads there. After explanation they all returned to work. The guard said he would take us all, but we just walked out on him and went alone. The next day we got a new guard, a decent sort actually.
Sid came round all the gardens one day, visited ever POW and told us the Invasion had started. My folk wanted to know what Sid wanted, I told them. They were rather quiet but said I might soon be going home. We had a radio set at the billet; the wordks were in the guard's room and a speaker in our room, we could only get one German station. However, some of the lads listened to English radio at work, and found out Churchill was broadcasting one evening. O'Meara, an Aussie was a wireless operator, electrician, the lot. He from somewhere got some coils I think and put them in the radio. At the appropriate time, Athol Heath and me went to talk to the guard and keep him occupied whilst the lads listened to Churchill. Suddenly the guard said 'quiet', stood up and said 'Churchill.' He picked up the wireless and threw it across the room. He said 'I have treated you more as friends than POW, if anyone had heard that I would have been shot.' We said, 'sorry' One day at work I was told to go to the kitchen and tell them what was on the radio. It was Richard Dimbleby, commentating on the crossing of the Rhine. They must have listened to the German language broadcast on that station, they couldn't understand English but knew it was something exciting because of the shouting and the guns. I told them what it was, and they said I would soon be going home.
Return to top of page
Return to last page